What's Happening
Join us this weekend — in person or online. Worship services are Saturday at 5pm and Sunday at 9am and 11am. Please review our COVID-19 guidelines if you choose to attend in person. See you then!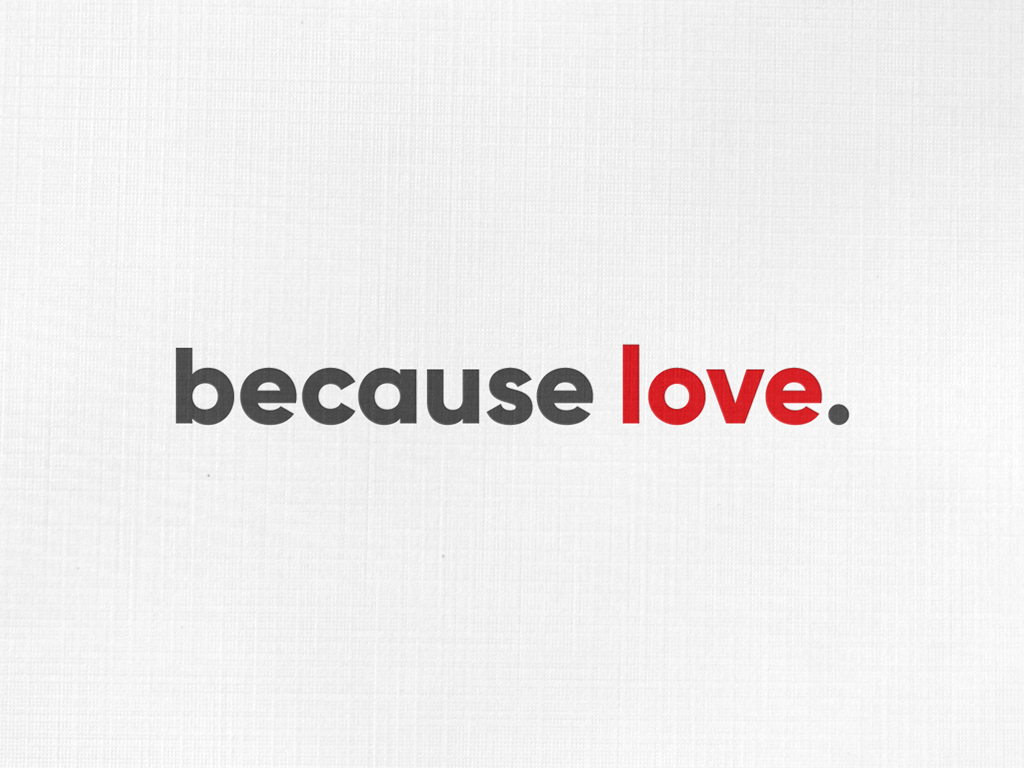 Current Message Series
---
The books of 1 John, 2 John, and 3 John in the Bible were written to define love and what it has to do with everything in our lives. Join us in person or online this weekend as we conclude this message series on love. Our worship services are Saturday at 5pm and Sunday at 9am and 11am. And you can always catch us on demand throughout the week.
First Steps
---
WEEKEND OF MAY 8 & 9
If you are new(-ish) to First Christian Church and want to know how you can grow and serve, then First Steps is the perfect thing for you! Make a connection with staff and others like you as well as explore the mission of our church and how you can make a difference. This is a brief 20-minute gathering.
IN PERSON
Following each worship service so Saturday, May 8 at 6:15pm or Sunday, May 9 at 10:15am and 12:15pm (meet at the Welcome Center, no registration necessary)
ONLINE
Sunday, May 9 at 11:15am via Zoom (e-mail Hannah at hbeery@firstdecatur.org for a Zoom link)
Leviticus Reading Plan
---
STARTS WEEK OF MAY 10, 2021 (NEW SERIES BEGINS MAY 15/16)

Leviticus - yep that's the Old Testament book you usually skip over when reading the Bible. It is full of smoke and fire and blood — very messy indeed. However, there's a life code described between the written lines, a life code of order and worship. Learn how to read, study, and experience Leviticus, a ancient book for contemporary spirituality.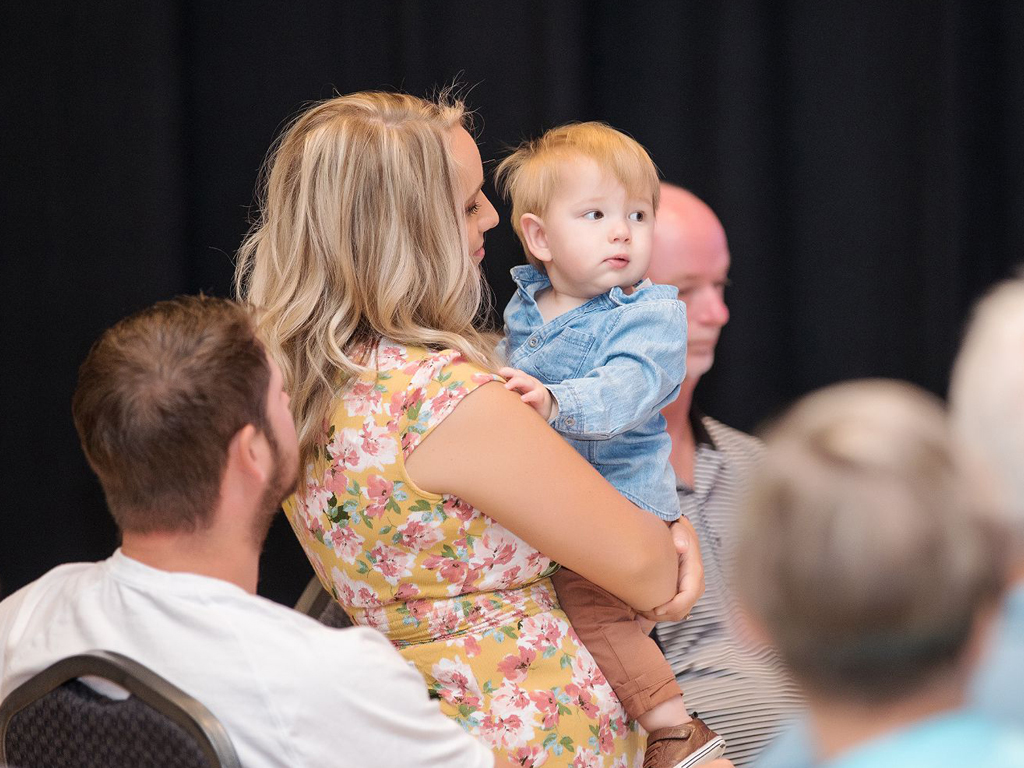 Baby Dedication Celebration
---
SATURDAY, JUNE 5, 2021 AT 10AM
We love babies! We ESPECIALLY love when parents dedicate themselves to raising their child to know and love Jesus. That's why we have Baby Dedication Celebrations throughout the year. Our next event is Saturday, June 5 with a Parent Orientation on Sunday, May 23. The deadline to register is May 17.
Women's Bible Study
---
BEGINS WEDNESDAY, JUNE 9, 2021 FROM 9:30-11:30AM (4 WEEKS)

If you've ever found yourself overwhelmed by a mountain of diapers, the stresses of coping with a rebellious teen, or the loneliness of an empty nest, remember that each of these is only a season we are passing through. No matter your season of life, now is your time to thrive. Join us for "Seasons of a Women's Life" Bible study with sisters Chrystal Hurst and Priscilla Shirer.
Youth Mission Trip
---
JUNE 22-24, 2021
Sixth-12th grade students are invited to participate in our mission trip to . . . (drum roll, please) the Decatur area! During this three-day mission trip, teens will serve different agencies in our community each morning, have fun in the afternoons, and wrap up each day with a worship service.
Employment Opportunity
---
We are currently seeking a part-time Weekend Support staff person. Our weekend support staff help make our worship services a success by fulfilling essential behind-the-scenes tasks such as prepping the building, communion, attendance, and more. For more information, contact Dan at dsteffeny@firstdecatur.org or 217.875.3350.
FirstKids In Person & Online
---
We now have both in-person and online programming for kids birth-5th grade:
IN PERSON: Saturdays at 5pm and Sundays at 9am and 11am
ONLINE: Watch on FirstKids Online on YouTube or Facebook. Or join FirstKids Elementary via Zoom Sunday mornings! Contact Janie at jkane@firstdecatur.org for a Zoom link.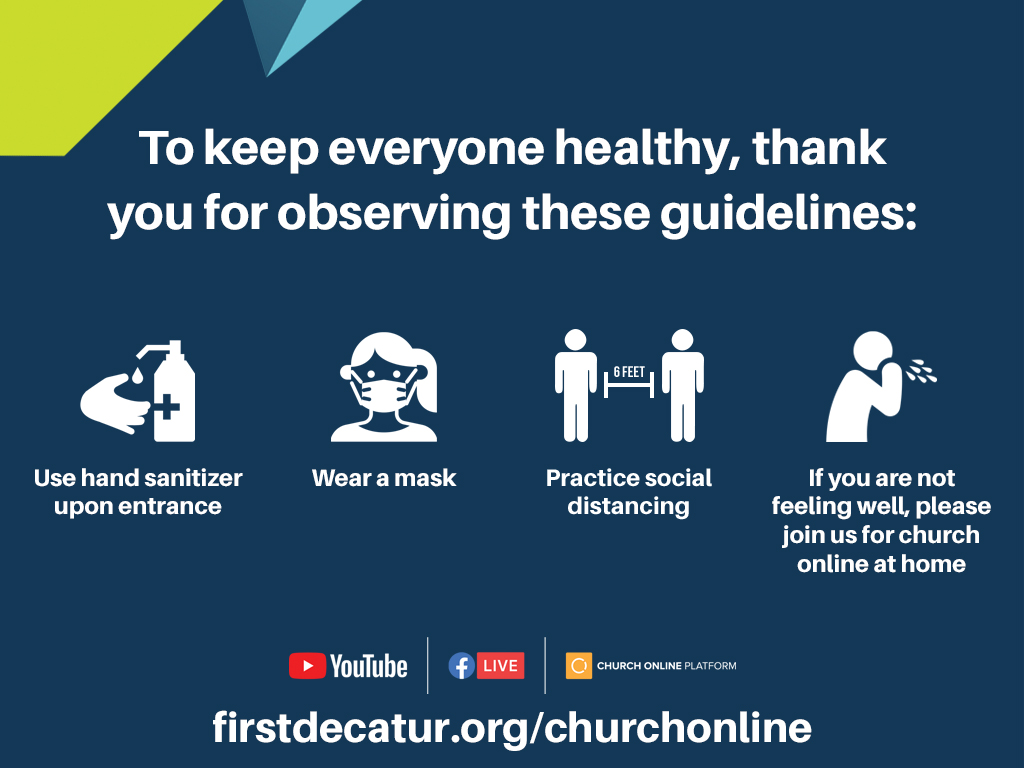 Worshipping In Person or Online
---
You're spiritual and physical well-being are our top priority. That's why we have online worship services for those who are more comfortable worshipping from home, and we've created a safe environment for those who want to gather in person for worship. We have implemented social distancing, including the use of masks, antibacterial stations, individually packaged communion, limited capacities, and more.
For a complete list of events, click the church calendar button below. Questions? Please contact the church at 217.875.3350 or questions@firstdecatur.org.