What's Happening
Join us this weekend — in person or online. Worship services are Saturday at 5pm and Sunday at 9am and 11am. Please review our COVID-19 guidelines if you choose to attend in person. See you then!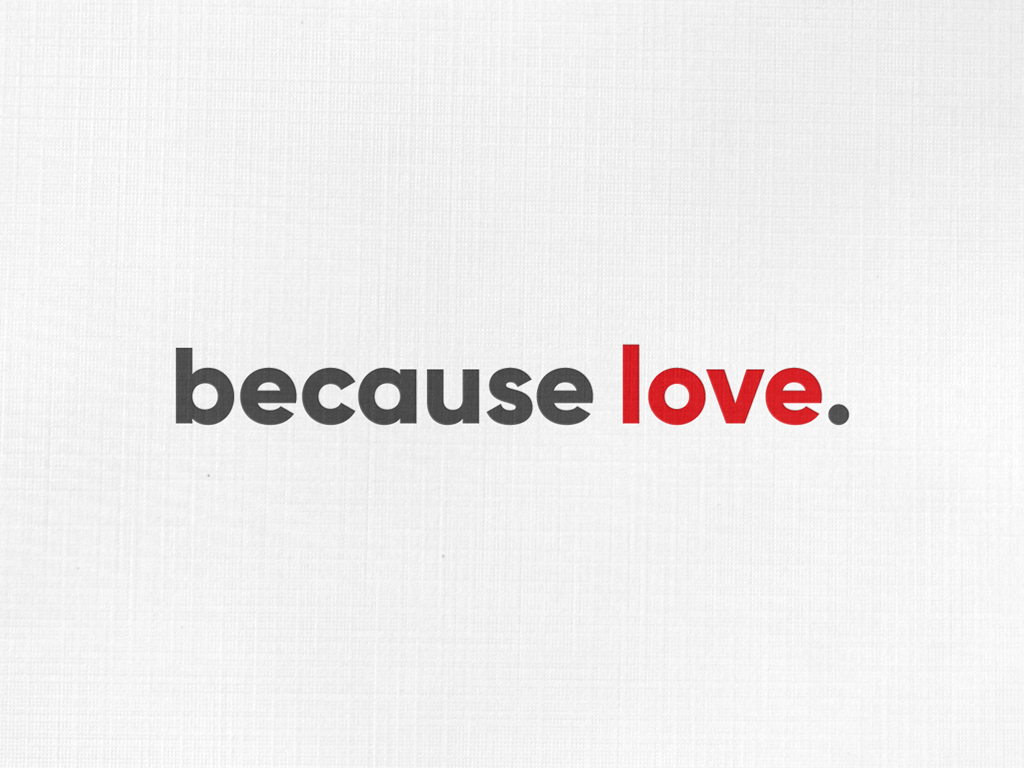 NEW Message Series
---
BEGINS WEEKEND OF APRIL 10/11, 2021

Tina Turner posed the question in her 1984 pop hit, "What's love got to do with it?" God's answer to that question . . . everything. Every question you have about God can be answered with, "Because love." Well, that sounds nice, warm, and fuzzy — but what do we mean by the word love? The books of 1 John, 2 John, and 3 John in the Bible were written to define love and what it has to do with everything. So plan to join us in person or online as we begin this new message series on love. Our worship services are Saturday at 5pm and Sunday at 9am and 11am. And you can always catch us on demand throughout the week.
The Block Work Day
---
SATURDAY, APRIL 10, 2021 FROM 10AM-NOON

Let's spruce up The Block together this spring! The Block is located in the GM Square neighborhood where we have a ministry house and share the love of Jesus with our neighbors there. Work day projects will include neighborhood clean up, planting flowers, and installing a new basketball hoop for the neighborhood. We will gather in the empty lots at 1520 N Union Street, Decatur. Bring work gloves. Questions? Contact Pastor BJ Leonard at bleonard@firstdecatur.org or 217.875.3350.
First Steps
---
WEEKEND OF APRIL 10 & 11, 2021

Are you new(-ish) to First Christian Church and want to know how you can grow and serve? Then First Steps is the perfect thing for you! Make a connection with staff and others like you as well as explore the mission of our church and how you can get involved. This is a brief 20-minute gathering.
IN PERSON:  Following each worship service. Saturday, April 10 at 6:15pm or Sunday, April 11 at 10:15am or 12:15pm (meet at the Welcome Center, no registration necessary)
ONLINE:  Sunday, April 11 at 11:15am via Zoom (e-mail Hannah at hbeery@firstdecatur.org for a Zoom link)
Spring Serve Day
---
SATURDAY, APRIL 17 FROM 8AM-NOON

Let's come together and spruce up our church campus — inside and out! Tasks that need completed include landscaping clean up, laying landscape fabric, mulching, shrub trimming, leaf removal, pulling up carpet, hanging shelving, and painting stair trim. Sign up by April 16 to serve. Questions? Contact Dan at dsteffeny@firstdecatur.org or 217.875.3350.
DHF National Conference
---
APRIL 22 & 23, 2021

Disciple Heritage Fellowship (DHF) is a ministry of First Christian Church. We assist pastors and churches around the nation with a common heritage in the Stone-Campbell movement to fulfill Christ's mission to make disciples. We provide encouragement to pastors and lay leaders alike as they strive to lead the congregation in which God has placed them. Pastors and lay leaders from around the nation will gather at our church for the DHF National Conference on April 22 & 23. If you are interested in learning more or would like to volunteer for this event, please contact Lori Putnam at lputnam@firstdecatur.org or 217.875.3350.
Congregational Meeting
---
SUNDAY, APRIL 25 AT 3PM

All members are invited to attend our spring congregational meeting. Agenda items include a presentation by the church's Administrative Team as well as a report from Pastor Wayne Kent. The Nominating Team presents the following as members of the 2021/2022 Elder Team:
Ann Eaton
Nolan Gillett
Bradley Grant
Rick McKibben
Kathy Mueller
Russ Reimer
Mark Reynolds
John Guymon (new 3 year term)
Debbie Sullivan (new 3 year term)
Members of the congregation are invited to prayerfully examine this list. Any questions or concerns regarding any proposed Elder Team member should be addressed to either Pastor Wayne Kent or the present Elder Team Chair, Jared Collier, at 217.875.3350.
Note that per the church's bylaws, Pastor Wayne Kent is an Elder while holding the Lead Pastor role. Pastor Brian Talty could be named an Elder 2 years after he begins his Lead Pastor role in July 2022.
Apr/May Newsletter
---
Check out the April/May 2021 Decatur Christian newsletter! Be inspired by what's happening with our global and community missions.
If you are not on our snail mail list, sign up here.
New Texting Service
---
Good news! We are excited to announce that we have switched to a brand new, local texting service to better connect with you. If you were signed up for our old service, you are good to go. If you'd like to sign up to receive our What's Happening digital news, text keyword FIRSTDECATUR to 217.875.3350. Also, for those of you who prefer texting over voice calls, you can now text us at the church phone number anytime. Our number is 217.875.3350. We look forward to connecting with you!
Tip: Create a new contact just for the church phone number. If you have the church phone number under a particular church staff member in your phone, our messages may appear as though they are coming from that staff member. If you create a contact just for the church phone number, then you won't have that problem.
FirstKids In Person & Online
---
We now have both in-person and online programming for kids birth-5th grade:
IN PERSON: Saturdays at 5pm and Sundays at 9am and 11am
ONLINE: Watch on FirstKids Online on YouTube or Facebook. Or join FirstKids Elementary via Zoom Sunday mornings! Contact Janie at jkane@firstdecatur.org for a Zoom link.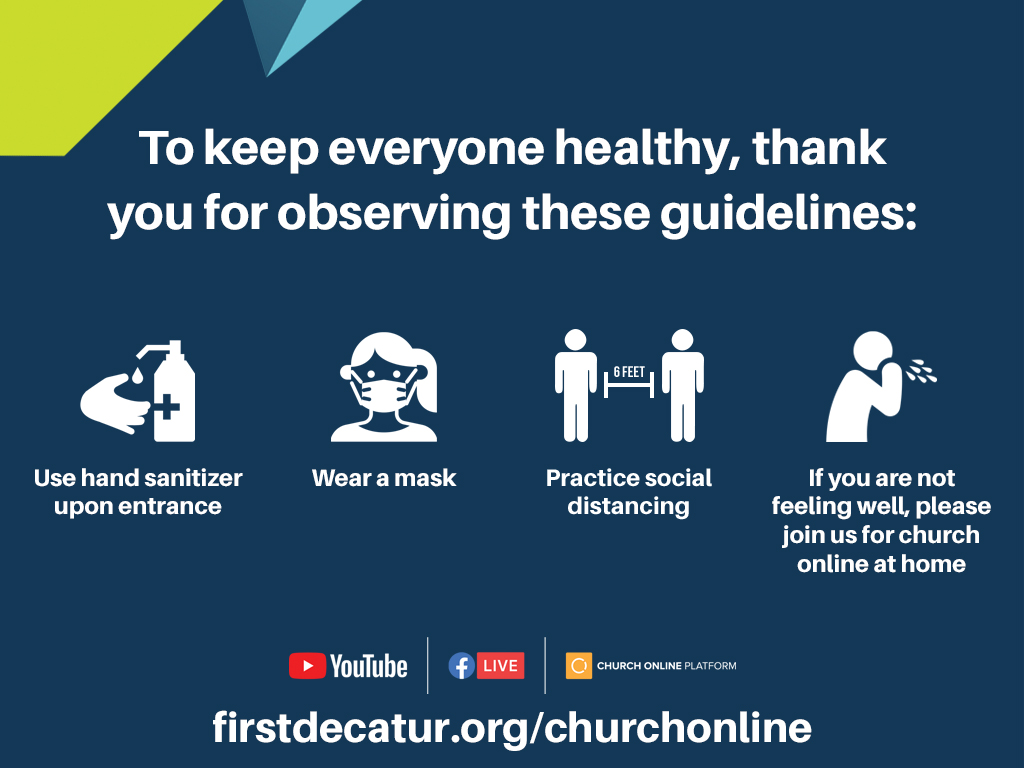 Worshipping In Person or Online
---
You're spiritual and physical well-being are our top priority. That's why we have online worship services for those who are more comfortable worshipping from home, and we've created a safe environment for those who want to gather in person for worship. We have implemented social distancing, including the use of masks, antibacterial stations, individually packaged communion, limited capacities, and more.
For a complete list of events, click the church calendar button below. Questions? Please contact the church at 217.875.3350 or questions@firstdecatur.org.