What's Happening
Join us this weekend — in person or online. Worship services are Saturday at 5pm and Sunday at 9am and 10:30am.
Old Testament U
---
FRIDAY, AUGUST 6, 2021 FROM 6:30-7:30PM
& SATURDAY, AUGUST 7, 2021 FROM 9-11AM

It can be a challenge for those of us with 21st Century eyes to read between the lines of the Old Testament. That's why we are hosting Old Testament U which will help us have a better understanding on our Christian heritage and lineage. What's the meaning of burnt offerings and thanksgiving offerings? Plus, how did we get the Old Testament writings, given that they were written many years ago? Dr. Jody Owens, professor at Johnson University and one of Pastor Wayne's go-to-guys on Old Testament study, is coming to Decatur to give us insight and information that will impact your walk with Christ, as Jesus' story is influenced by Old Testament literature. RSVP below for this FREE class by Thursday, August 5.
Hymnoscope
---
SUNDAY, AUGUST 15, 2021 AT 4:30PM
You are invited to Hymnoscope, a special worship event where we come together and sing our favorite hymns of our faith. Our Worship Arts team, ensemble, and Arts Academy students will lead us in worship. You'll have the opportunity to request songs and worship together.
Student Life Kickoff!
---
SUNDAY, AUGUST 15, 2021 FROM 4:30-6PM
Middle & high school students, plan to join us every Sunday starting August 15 for a time of worship, games, teaching, and small groups. It's even more fun when you bring a friend to participate with you! Questions? Contact Heather at hvance@firstdecatur.org or call/text (217) 747-8392.  Click below to find out more about Student Life, our ministry to middle & high school students.
Fun Night!
---
SUNDAY, AUGUST 22, 2021 FROM 4-7PM
Join us for fun on the front lawn! We'll have food trucks, ice cream, bounce houses, games, Ope Sorry (6pm), and more! And it's free! Invite friends to join you. All ages welcome.
Mentor Ministries
---
WOMEN
Our mentoring ministry for women focuses on discipleship and spiritual formation through intentional, one-on-one relationships. Launches Monday, August 16 from 6-7:30pm in Mosaic Café.
MEN *New!*
We are excited to launch our new men's mentoring ministry. It's a nine month intentional connection between four guys and two leaders focused on spiritual growth and maturity. It's about becoming an all-in Jesus-follower, husband, father, son, brother, friend, disciple-maker, and Christian leader. Launches Wednesday, August 25 from 6-7:30pm in Mosaic Café.
Register for our Mentor Ministries below. Question? Contact Pastor Jonathan Grunden at jgrunden@firstdecatur.org or call/text (217) 875-3350.
Join a small group!
---
LAUNCHES SUNDAY, AUGUST 29, 2021 IN PERSON & ONLINE

Small Groups are a great way to grow together by sharing life, pursing God, and investing in others. Groups typically consist of 8-12 adults who meet throughout the week in homes around the community or online.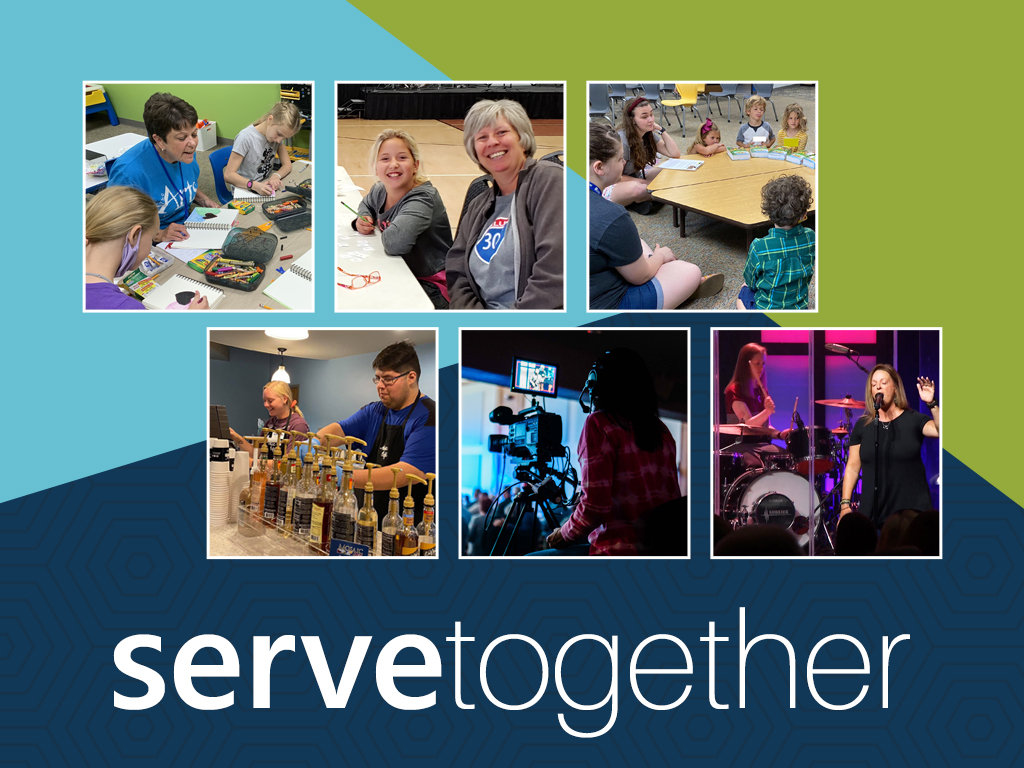 Serve Together Opportunities
---
We have the incredible opportunity to be on mission in our church and community. Here are a few ministry areas we are highlighting for you. Simply fill out the form below to begin using your gifts and talents to serve the Lord!
Employment Opportunities
---
First Christian Church is a great place to work. We currently have three open employment opportunities:
Discipleship Pastor
Elementary Director
Video Producer
If you or someone you know is interested, find our more here:
For a complete list of events, click the church calendar button below. Questions? Please contact the church at 217.875.3350 or questions@firstdecatur.org.