Due to the steadily rising number of COVID-19 cases in Decatur and Macon County, Crossing Healthcare, the Macon County Health Department, and First Christian Church leadership teams have decided to cancel JumpStart for 2020. It was a very difficult decision to realize. The health and well-being of the volunteers, students and families had to be taken into consideration as community leaders urge people to stay home and take strict precautions. If you have any questions, please contact Pastor BJ Leonard at bleonard@firstdecatur.org or 217.875.3350.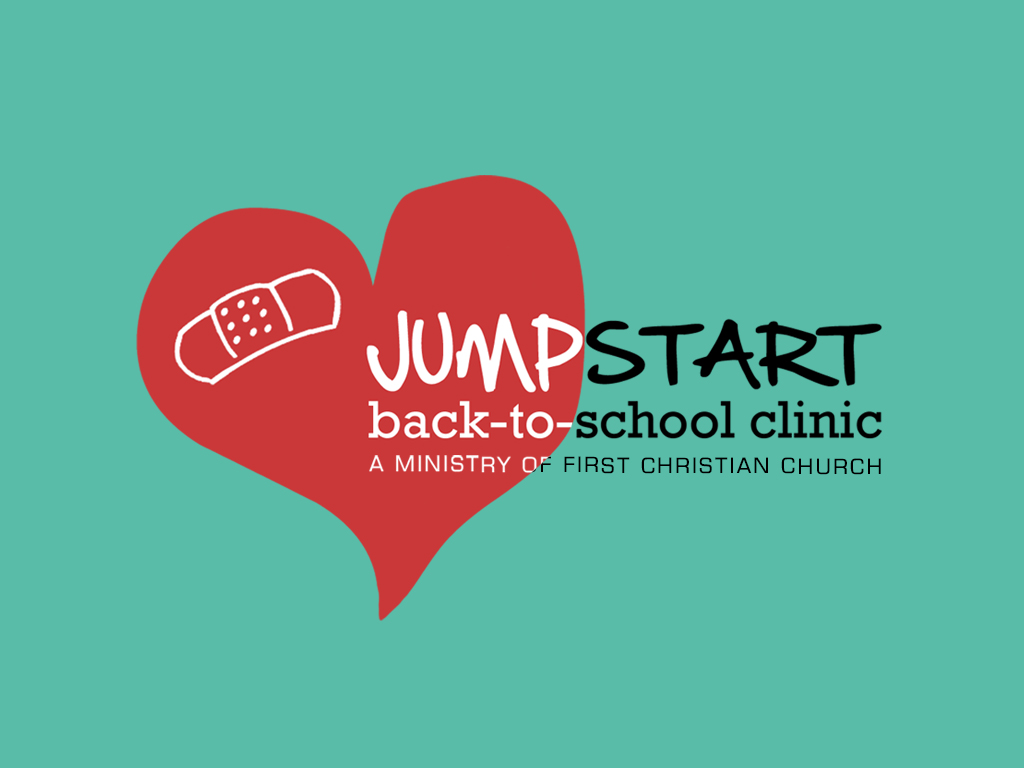 JumpStart Back-to-School Clinic
---
JumpStart Back-to-School Clinic is a free medical clinic open to all students in our community. We provide FREE school physicals, dental exams, immunizations, eye exams, & other screenings. A parent or legal guardian must be present for children to receive services. All exams are free. Please bring an insurance card if you have one.
JumpStart will be offered at two locations:
Become a volunteer!
---
It takes many volunteers to help make JumpStart a success. The following are specific roles that will be involved:
Family Advocate
Assist and direct families as they move through the clinic and receive the services they need. Advocates will serve as a guide, help fill out paperwork, and be a personal connection to the clinic. This role is rewarding and essential to the success of the clinic.
Advocate Helper
Team up with Advocates to get families through the clinic by entertaining children, assist in guiding, and sitting with the family during physicals.
Family & Pediatric Provider (Physicians, Physicians Assistants, Nurse Practitioners)
Medical professionals who will administer school physicals for the students ranging from Pre-K to 18. Each provider will have their own exam room for administering physicals. The vitals and subjective portion of the physical will be completed before seeing the provider.
Nurse (RNs, LPNs, CNAs, Nursing Students, and other health professionals)
Collect vitals information, assist parents in completing the subjective portion of the school physical, and answer health questions. Nurses may also be asked to serve as Advocates for families with special medical needs or if additional advocates are needed.
Dental Professional (Dentists, Dental Hygienists, Dental Assistants)
Dentists administer basic dental exams for students in order to meet State Dental Exam requirements, along with noting issues for follow-up. Each dentist will be assisted by someone to do charting.
Admin
Assist with initial registration, distribute appropriate paperwork to families, make copies, and organize completed forms.
Support Staff
Work behind the scenes to create a great environment, address building issues, and support the other clinic volunteers. Tasks include building set-up prior the event, rearranging as needed, refreshing restrooms and lunchroom, parking-lot help, moving supplies as needed and completing tear down after the event.
Hospitality
Help families and volunteers enjoy the day by handing out bottles of water and snacks, handing out crafts and coloring pages to kids, and taking lunches to volunteers and staff as they serve.
Food Management
Minor food preparation and organization on site,  putting together to-go lunch boxes, and handing out meals to families.
Cleaning
Cleaning rooms between exams, spraying down hard surfaces in waiting areas, cleaning restrooms, and assisting custodial staff.
ALL MEDICAL PROFESSIONALS ARE COVERED UNDER THE GOOD SAMARITAN ACT (745 ILCS)
To volunteer, please fill out the form below. Note that we will let you know the location where you will serve once we fill our volunteer roles. Questions? Contact BJ Leonard at bleonard@firstdecatur.org or 217.875.3350.
JumpStart Back-to-School Clinic is a ministry of First Christian Church.