Community Missions
We love Decatur! That's why we want to bless our community through the following ministries. To volunteer, contact Pastor BJ Leonard at bleonard@firstdecatur.org or 217.875.3350.

PARSONS ELEMENTARY SCHOOL / CLUB 305
First Christian Church partners with Parsons Elementary School through Decatur Public School's "One Church, One School" initiative. We have opened up our facilities to be use for special school events, served Thanksgiving meals to 1st graders, and even given every student a t-shirt and book for Christmas each year. However, our commitment goes even deeper with our after-school program for 2nd-6th graders. The goal of Club 305 is to build relationships with the students with the hope that they will develop academically, socially, personally, and spiritually. The program takes place on Tuesdays and Thursdays beginning in September and ending in May. Club 305 is a safe place for the students to have fun after school, play, be taught a lesson from the Bible, pray, enjoy a great snack, and receive academic help. And the best part is that this program is offered free of charge!
To make a difference in the lives of Parsons students, contact Amanda Elven at aelven@firstdecatur.org or 217.875.3350.
ADOPT A BLOCK
We have adopted a portion of the GM Square neighborhood about a mile south of the church. The 1st & 3rd Saturday of each month from 10am-noon, we spend time in the neighborhood getting to know our new friends and meeting the needs of the community. Projects range from picking up trash to home improvement to playing games with kids – all with the goal of building friendships.
We've also purchased a home on the block where Pastor BJ Leonard and his family will reside. This home will be used as a ministry center where we plan to provide classes and much more!
If you and your family would like to get involved with Adopt A Block, contact Pastor BJ at bleonard@firstdecatur.org or 217.875.3350.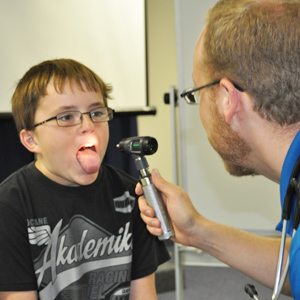 JUMPSTART BACK-TO-SCHOOL CLINIC
Every August we have opened up our church for a free medical clinic open to the community. We provide school physicals, eye exams, dental cleanings, and much more. In 2018, we served 513 students, 360 families from Decatur and surrounding communities with over 200 volunteers serving as family advocates, greeters, registrants, medical experts, kitchen staff, and ministry staff.
To get involved, contact BJ Leonard at bleonard@firstdeatur.org or 217.875.3350.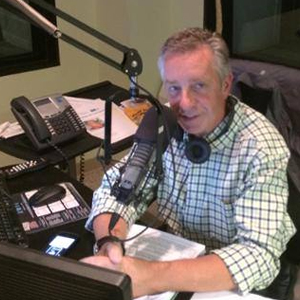 DIRECTLINE ON NEWS/TALK 1340 WSOY
First Christian Church is proud to host one of the highest rated radio shows in the area. DirectLine With Wayne Kent creates a forum to discuss today's news from a Christian perspective.
Discover a completely innovative and out-of-the-box approach to the topics of the day. Tune in every Wednesday from 5-7pm to 1340 on your AM dial or to News/Talk 1340 WSOY for live streaming on the internet. Podcasts are also available the following day just by scrolling down on the WSOY Podcasts page and clicking on Wednesday's podcasts. (Podcasts are only available for one week at a time.)
To become a DirectLine sponsor, contact the church office at 217.875.3350.
To find out about how you can serve within our community, contact Pastor BJ Leonard at bleonard@firstdecatur.org or 217.875.3350.